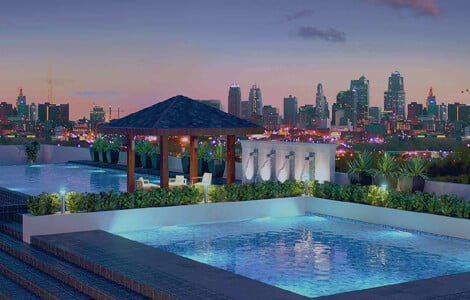 Get a splendid view of the magnificent Makati skyline with Breeze Residences. Enjoy an exciting life with its commercial area conveniently located on the ground floor. It has nine elevators and a stand-by generator set for Breeze Residences' common areas. It even has a centralized garbage collection area. Additional features include an automatic fire sprinkler system, a mailroom, an overhead water tank, and reliable 24-hour security. Apart from a children's play area, a landscaped area, and covered gazebos, live magnificently with Breeze's grand lobby, pool deck, swimming pools, sky lounge, and penthouse lobby.

Located right at the heart of the Mall of Asia Complex is modern resort-inspired Sea Residences, a bold new concept in condo living. Experience a year-round staycation in Sea Residences, as it's set against the backdrop of Manila Bay and the stunning Makati skyline. With its six towers, you can live an urban work-life balance with ease. It has an automatic fire detection and alarm system, as well as a generator set on standby. It has a sewerage treatment plant and a centralized cistern tank. It has multiple, landscaped pools, a children's play area, and a multipurpose room.

At the heart of the Entertainment City and the Mall of Asia Complex is the 2.2-hectare resort residential complex Shell Residences. Amenities are resort-inspired, like the adult pool and kiddie pool, pool gazebos, a jogging trail, and a large clubhouse. It even has a modern tropical garden, a main gazebo, and function rooms. Enjoy services like five passenger elevators per four buildings, a centralized cistern tank and sewage treatment plant, 24-hour security, an automatic fire detection and alarm system, a back-up power system, and an eco-friendly rainwater collection for landscape watering. Bask in the magnificence of its grand lobbies and experience fun and dining with its restaurant/commercial strip.

Located right beside De La Salle University on Taft Avenue is SMDC's Green Residences in Manila. Built for students, it has study and game rooms, a gym, function rooms, a lap pool and a kiddie pool. You can find that your child can easily focus on her studies and work towards a promising future. Feel safe and secure with its 12 elevators, an automatic fire detection and alarm system, a stand-by generator set, a sewerage treatment plant, a mailroom, a garbage disposal area on every floor, and a commercial area on the ground floor.

In bustling Quezon City, SMDC has multiple developments. The first is Berkeley Residences, located along Katipunan Avenue, right across the Ateneo de Manila University and Miriam College. IT's also within walking distance to multiple specialty restaurants and shopping centers. Your basic needs will be made available with a Savemore on the ground floor. Suited for students who want to strike a balance between work and play, Berkeley Residences has a student lounge, a function room, and pools. For safety and convenience, Berkeley Residences has 4 elevators, an automatic fire detection and alarm system, a standby generator set, a centralized cistern tank, and a sewerage treatment plant.

Near Berkeley Residences is the 4,235-sqm Blue Residences, located at the corner of Katipunan Avenue and Aurora Boulevard. It's also close by the Ateneo de Manila University, Miriam College, and a ride away from the University of the Philippines. It has the same 5-star features as Berkeley residences, like an automatic fire detection and alarm system, a generator set, a sewerage treatment plant, and a cistern tank. But it also has an amenity lounge, a function room, a children's play area, pools, a student lounge, and even a roof deck lounge.

In Quezon City, too, is Fern at Grass Residences with its iconic two towers featuring a modern façade. It has a sprawling playground, picnic area, and swimming pools in your very own private amenity area. The Sky Pavilion is also within the amenity area, an events venue with enough space to host events. It is complete with an outdoor spill-over area for al fresco lounging. It has a complete clubhouse and a main pavilion, where you can find function rooms for business and leisure. What's more, there is an Olympic-sized swimming pool, an adult pool, and a kiddie pool. It also has a covered badminton/basketball court, a gym and jogging paths, and landscaped gardens and a children's play area. Its shared amenities with Grass Residences are a wonderful lounge and main lobby, a main clubhouse, cabanas and pavilions, and water cascade features. It has an exclusive Bridgeway to SM City North EDSA. It's also near to MRT and LRT stations, Eton Centris, Ayala Technohub, and the soon-to-be-completed Triangle Park.

Near Fern is Grass Residences Complex, also near SM City North EDSA with an exclusive bridge way for instant access to the mall. It hosts an array of complete sports complex amenities so you can enjoy an active lifestyle in Quezon City. Additionally, its features include 6 elevators for Tower 1, and 4 elevators for Towers 2 and 3. Like all SM Residences developments, it has an automatic fire detection and alarm system, 24-hour security, and a standby generator set for common areas and select unit outlets. It also has a centralized garbage collection area and a mailroom for your convenience. Enjoy its amenities like a lounge and a beautiful main lobby, a main clubhouse complete with function rooms, pools (Olympic-sized, adult, and kiddie), a fitness and children's gym, a children's play area, cabanas and pavilions, landscaped gardens, badminton courts, a covered basketball court, jogging paths, and water cascade features.

At the corner of Aurora Boulevard and Araneta Avenue in Sta. Mesa is Mezza Residences, offering an easy and luxurious lifestyle. It has SM City Sta. Mesa readily accessible, as well as having your own Savemore Market, service shops, and dining options at the Mezza Strip. You can stay fit with its pool and jogging paths around the amenity deck. You can also welcome guests at the grand lobby. It has all the same features like every SM Residences development, and an additional CCTV System in key areas. It has a lounge at the 5th floor, an outdoor function area and M Bar, a function room, a fitness gym, a children's play area, a lawn and barbecue area, and even a garden with gazebos.

Also in Sta. Mesa is Mezza II Residences, a 40-storey development that is the tallest in its area, providing residents with the view of the skyline of Metro Manila. It's nearest the LRT 2 V. Mapa Station and SM City Sta. Mesa. It has the same features of every SM Residences property, as well as an overhead water tank and underground cistern. Bask in the wonder of the Sky Lounge, swim in its swimming pool, enjoy events in the function rooms, and entertain guests in the Mezza II lobby.

The perfect home from working professionals in Quezon City is MPlace South Triangle, clustered within the heart of Media City. It's near commercial districts, health centers, and dining establishments. For leisure, enjoy access to jogging paths, fitness stations, and swimming pools. Feel like a star in your own Hollywood-themed lobbies. Enjoy shopping and convenience at the MPlace Mall on the ground floor. Feel safe with 24-hour security and CCTV. Be connected with WiFi Zones in selected areas of MPlace. Rest in the garden lounge and entertain kids within the children's play area.

Offering an ideal lifestyle of elegance and sophistication, Princeton Residences has hotel-inspired interiors and luxurious amenities. Right beside Princeton Residences is the LRT 2 Gilmore Station, and nearby are multiple dining options in Greenhills and Tomas Morato. Schools, commercial centers, and a hospital is also nearby. Enjoy the Sky Lounge, the function room, and its swimming pools. Entertain your guests at the ground floor lobby and the grand lobby on the seventh floor.
Located at the intersection of thriving Quezon City and Manila is Sun Residences, with amenities like lounges, landscaped gardens, and swimming pools. It has easy access to schools, hospitals, and even has its own Sun Mall. With a towering 40 storeys, enjoy a comfortable life in Sun Residences.

In the heart of Novaliches in Quezon City is Trees Residences, offering a hushed, peaceful neighborhood with its very own retail area within the complex. Complete with function rooms, swimming pools, a multi-purpose court, and covered walkways, you will find that you won't have to leave home.

Located within the SM City Novaliches complex is Vine Residences. With its vast, open greenery and its secluded sunken gardens, also enclosed within the gated garden community are parks, pools, fitness zones, play areas, and lounges. Additionally, it also has a Vine Nature Park with a Camp Site, eco trail, and sports grounds.

In the Reposo District, Makati, with its quaint restaurants and luxe designer shops for the home is Jazz Residences, a four-tower vertical development with its very own Jazz Mall and Hypermart. It also has a swimming pool and clubhouse, a landscaped garden, a fitness area, function rooms, and a dazzling lounge and main lobbies.

In Taguig, there's Grace Residences, close to the Bonifacio Global City and Makati CBD. It's within the proximity of top schools, hospitals, malls, and other institutions which will enable you to live the conveniences of modern, urban live. Unwind with more than a hectare of open greens and a pavilion. Stay fit with its swimming pools, basketball court, and gym. Bond with your kids at the children's play area.

Mandaluyong has two SM Residences vertical communities: Light Residences and Fame Residences. Light Residences brings you to the center of the action, as it's located along EDSA and Madison Street, and is also linked to the Boni-EDSA MRT station. It has urban conveniences with its very own light mall, digital cinemas, and its very own Savemore Market. Fame Residences also has the multiple features and amenities that SM Residences vertical communities has to offer.

Along Meralco Avenue in Ortigas is Shine Residences, standing tall within a prestigious community labeled the Renaissance Center. It has entertainment, business, and leisure sports within close proximity. Be welcomed with its distinct grand lobby, and take pleasure at the leisure pull. It even has selected WiFi zones!

SM Residences in Tagaytay and Bulacan
Enjoy privileged southern living in Tagaytay with Cool Suites and Wind Residences. Experience the cool Tagaytay breeze in the newest garden complex in the Wind Residences estate, Cool Suites. It has lush foliage and greenery which can be a private retreat from work where you can relax and recover. It has the same SMDC signature 5-star amenities, and it even has a pathway with a trellis and a jogging/walking trail.

Tagaytay- Cool Suites, Wind Residences
Cool Suites is the newest garden complex in the flourishing Wind Residences estate. Nestled inside the complex is an array of lush foliage and greenery that serve as a private retreat where you can relax and recover from the busy work week.

Experience a vacation at your own condo with Wind Residences, with its country club amenities like the clubhouse, indoor and outdoor swimming pools, tennis court, and basketball court. Take in the views of the Taal Lake and the Metro Manila skyline, as well.

Conveniently located right in MacArthur Highway is Cheer Residnces, which has a clubhouse, swimming pool, and lovely landscaped areas. It's a luxurious, elegant, yet affordable home for people who seek comfort and convenience at every angle. Additionally, it's also the first vertical development in the area that offers a mall, SM City Marilao, within the complex!