Anthilla Properties - Your Biggest Questions About SMDC Breeze Residences- Answered
SMDC Breeze Residences - Pasay Condo For Sale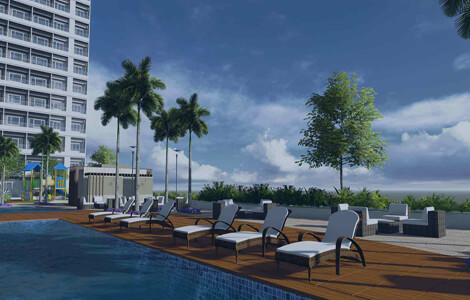 You have probably heard about all the grandest news about Breeze Residences and how stunning it is in terms of its promising views and one-of-a-kind amenities. Well, the news is undeniably right but there is more to it that you have yet to find out about. Breeze Residences brings you the luxurious life you have been dreaming of and has never been easier to reach! It is one of the newest premium residential developments that SMDC has to offer to its valued customers. Its distinct features bring out the vibrant life of the city while still maintaining the relaxing comfort of a peaceful home. Everyone has been gushing about Breeze Residences and what it has to showcase. That is why we have compiled a helpful list of the most frequently asked questions about it. The things that you should expect and amaze you are carefully prepared so you will have a gist on what kind of a breeze it would be to settle in the admired Breeze Residences.

1.) Where is Breeze Residences located and what are its nearby locations?
Breeze Residences is strategically situated at Roxas Boulevard in Pasay City. The location is practically perfect given that it is one of the main roads in Manila to reach the most in-demand places in the metro. The place has an easy access to all your needs. Basic needs, entertainment, or business opportunities? Just name it and Breeze Residences' location is at the center of all your demands. The colorful city of Manila will enlighten you with its history, culture and modern aspects. For a much-needed break from your work, the location has a lot to offer in terms of leisure and enjoyment. Some of the most prominent hotels and casinos such as City of Dreams, Manila Hotel are available for you to wander. If you are the artsy kind of person who enjoys all the aesthetically-pleasing activities, then you're looking at the ideal place! The Cultural Center of the Philippines will fill up your heart with its regular theater and cultural events. The shopper in you will also greatly appreciate the monthly bazaars which the World Trade Center showcases. Even the most famous establishments for entertainment are just blocks away from the vicinity. The Manila Ocean Park is also just nearby the building for some relaxing views. As of your spiritual needs, the Manila Cathedral and San Agustin Church are just located nearby as well. How convenient, right?

2.) What are the kinds of amenities offered by Breeze Residences?
Given its total land area of 6,028 sqm, Breeze Residences will not run out of space to cater all your needs. The magnificent setup of this residential development is made up of 38 floors, 694 parking slots, and 7 elevators all in all just for every resident's satisfaction. It will be as if you are living in a resort with Breeze Residences. The top-notch facilities are something worth hyping about as you experience the luxurious life you have been dreaming of. As you enter Breeze, you will be astounded by the Grand Lobby. It is such a heavenly welcome for valued residents like you. The Lounge, as well as the Sky Lounge, will instantly make you fall in love with the place even more as it gives you the view of the city especially with dreamy sunsets. The Amenity Area is somewhere you can relax at any given time if you want some time to reflect. For a more refreshing activity, you can drop off at the Pool Deck Area and enjoy a quick dip. You will be amazed at how much a chill environment can upgrade your living standards. For more intimate moments with your family and friends, there is also a Clubhouse with Function Rooms for you to enjoy. Breeze Residences is basically living in a vacation given its unbelievably fancily-designed amenities. Amidst the busy schedules and demands from work, you will appreciate how Breeze Residences gives you a taste of heaven with its peaceful environment and invigorating amenities.

3.) What makes Breeze Residences a great investment?
Aside from its incomparable perks, Breeze Residences should definitely be your next wisest investment given the benefits it can provide you in the future. Who would have thought that a residential unit can be your next business opportunity? SMDC, under the SM Prime Holdings, has this stable reputation as one the country's leading real estate companies. Therefore, investing in Breeze Residences is practically opening new doors for rental incomes. The 2,067 residential units are prepared with the highest quality of materials and dazzling modern designs. If you are looking for a long-term investment, then you don't have to keep looking anymore. The standards of Breeze Residences could easily pass internationally with its top quality structure. Let's not forget its perfect location which makes it easier for you to make it a source of income. It will certainly sustain all your needs as it is one of most in-demand location in the metro by students, professionals, tourists, and businessmen. You can opt for it to be on rent while you are still trying to venture out and focus on your career first. The best thing about Breeze Residences is that you will easily feel like you are the top priority with its different payment methods you can choose from. It gives you the widest options to avail the fittest plan for your future. A great investment doesn't only fill the pockets but fulfills the heart as well. Watch how Breeze Residences can level up you life standards with the remarkable experience.

Now that you have been informed about the notable features of Breeze Residences, we hope that you will not let this chance pass and inquire now to know more about this amazing deal. Investing for a residential unit should not be that hard. With Breeze Residences, you are with utter confidence that you are well-prepared for you and your loved one's future. What a breeze of a life it would be with Breeze Residences!




Tags: Breeze Residences, SM Breeze, SMDC Pasay Condo