Air Residences - Ready For Occupancy Condominium
Premium project of SMDC in San Antonio Makati Metro Manila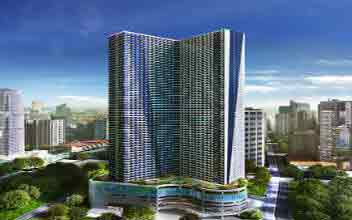 Project Type : Condominium
Listing Type : Ready For Occupancy
Developer Name : SMDC
Units : Studio, 1 BR, 2 BR
Price: ₱ 6,200,000 & Up
Address : Ayala Avenue, Cor. Malugay St.
Location : Makati , Metro Manila PH Air Residences SMDC Air Residences Air Residences SMDC Air Residences Makati
https://airresidences.phproperty.com/
Situated besides the Makati Fire Station and bounded by Malugay and Yakal Sts. is the upcoming 59-storey Air Residences by SMDC Premier. With just a short walk residents will find themselves in the financial corridors of Makati along Ayala and Sen. Gil Puyat Avenues.
AIR RESIDENCES is the first project of SMDC PREMIER, with luxurious sleek designs. An upgraded brand of condo living starting from PHP 3195000 upto PHP 7173990. Modern Contemporary Concept. Residences is located at Ayala Avenue Extension corner Yakal and Malugay Streets, Brgy. San Antonio, Makati City.
Finding a condominium is challenging. Finding a condominium in a heavily populated city like Makati is even tougher. And finding a condominium that suits your lifestyle in a city like Makati might even seem impossible.
With crowded condominiums, high interest rates, lump sum payments, and expensive monthly rent of about P40,000 –finding an ideal home that fits your needs, as well as your budget, can sometimes be harder than scoring your dream job.
Good thing developers like SMDC are addressing these concerns with their up and coming high rises. Air Residences is located in a prime location in the central business district and cater to a variety of personalities. Most residential projects within the Makati Central Business District are a bit pricey. Air Residences is an affordable yet clean, convenient and nice place to stay in luxury.
Upon turnover just like any other SMDC project, Air Residences condominium building will be very secure. Security guards and receptionists will greet everyone coming in the building. The projects is conveniently located from the airport. It is only around 10 to 15 minutes via the expressway. Cabs to and from the airport are around, UBER is also accessible. Wifi and local telephone line can easily be subscribed.
While your personality is a very important consideration when searching for a home, there are other things to consider when looking for a place to invest your money. Location, convenience, security, accessibility, rental rate, return on investment, unique selling point, price, and track record of the developer are all things to consider before buying a place. Evaluate whether the condominium is located near the important places you need to get to (malls, banks, groceries, hospitals, offices, restaurants, etc.) and if it is accessible to public transportation like buses and the MRT. Is it in a safe area? Would you feel comfortable walking home after watching the last full show in the cinema or a night out drinking? When it rains, do the surrounding streets stay flood-free?
Even if you are looking for a place to live, look at it also as an investment. Find a place with high rent rates and strong demand so should you decide to move, you can rent it out or sell it, no problem. For investing, the aforementioned also apply but also consider the price, return on investment, and track record of the developer. Does the unit have a unique selling point? For instance, a plus could be that the building is connected to a mall.
Investing in Air Residences in Makati has huge benefits in terms of ROI simply because of its location. A townhouse in Pasay is rented out at an average of P20,000 a month while a studio unit in Makati can be rented out for as much as P30,000 a month. You end up shelling out less money and earning more in the long run. Also, you can be confident that your unit won't depreciate in value.


Popular Links
Air Residences
Air Residences Location
Air Residences For Rental Units
Air Residences Resale Units
Air Residences Pre-Selling Units
Air Residences Showroom
Air Residences Amenities
Air Residences Price
Air Residences Contact
Air Residences SMDC For Sale Price List

| Unit Name | Project Name | Developer | Price (₱) | Location |
| --- | --- | --- | --- | --- |
| Studio Unit + Balcony | Air Residences | SMDC | 6,200,000 | San Antonio in Makati, Metro Manila |
| 1 Bedroom | Air Residences | SMDC | 6,600,000 | San Antonio in Makati, Metro Manila |
| 1 Bedroom | Air Residences | SMDC | 6,700,000 | San Antonio in Makati, Metro Manila |